Nonprofit IT helps gGmbH i.G. takes over operation of the welcome app Germany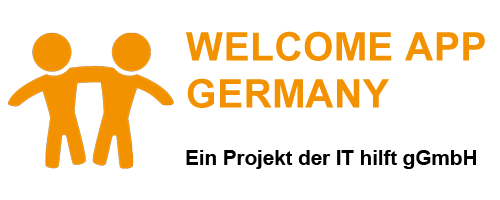 None-profit is now for 100% non-profit organization: with effect to March 2017 will welcome app Germany as a project of the non-profit IT helps gGmbH administratively taken over and continued.
Why and why?
It may sound strange, but when a none-profit running project, which costs more money than that it brings something, normal company is really not easy. Again and again, one is confronted with accusations of greed, exploitation of the situation or application needs. This often also no matter, how much is publicly documented, that none of this is true. While such unfortunately far too many projects fail circumstances, Managing Director of HeiReS, the previous operator of the welcome app, saw Peggy Reuter-Heinrich – rather as an incentive. Without further ADO she willingly private initiative that helps nonprofit IT gGmbH to continue the welcome app as a clearly altruistic project not only in the future, but also in other places where IT might help IT projects in's to call life.
What change is?
As mentioned already above the transfer of IT welcome app should gGmbH any possible criticism of the social philosophy of the project helps counteract. But that is not the only reason for this step by far. Rather many other opportunities with the business form. Step by step only the contract and contact changes for cities and regions that are already integrated in the welcome app. About the exact changes, they will be contacted directly and personally. Remains unchanged but the welcome app is constantly developed and improved. and we of course hold the vision and will work towards persuading as many cities and regions for our concern.