IT helps gGmbH presents itself
With effect of the operation was to March 2017 and the administrative management of the welcome app Germany officially helps IT pass gGmbH. This post aims to now IT helps more closely imagine gGmbH, the vision and the ongoing projects of the new operator.
Founder and co-owner of IT helps gGmbH Peggy is Reuter-Heinrich, as user interface with international awards, acclaimed designer and successful entrepreneur with the Heinrich & Reuter Solutions GmbH known to many. Charitable status was always very at heart, what is ultimately also showed that she was with initiator of welcome app Dresden and main initiator of the welcome app Germany Peggy.
Peggy's clear and unwavering vision is that it is possible to provide help people with disabilities as well as any, detached from greed or need to apply meaningful IT projects. Not money or prestige to there play a role, but only something to create a really helping tool should be based on current technology. With this vision of Peggy is also very closely the objective of IT helps gGmbH described: nonprofit IT create projects or promote that really help. The welcome app Germany could hardly better in this vision fit, finally it is now to the information app for migrants, immigrants and refugees in Germany. In addition to the welcome app Germany is IT helps in other areas, but still actively and very eager to develop solutions for better learning, accessibility and fair opportunities in the labour market.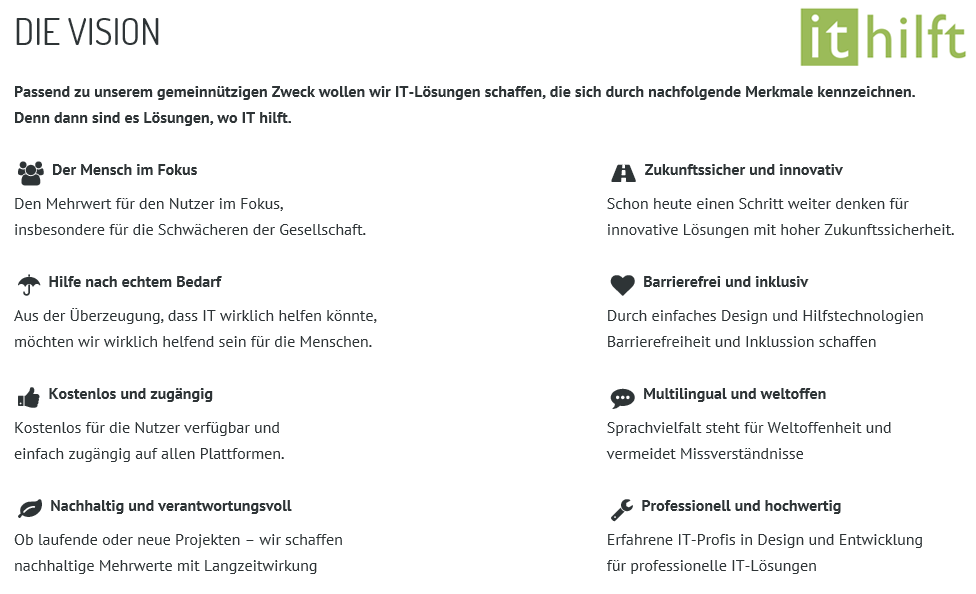 We – the team of welcome app – very pleased this transition. Finally, the operation of welcome app as a nonprofit company offers not only but also the many advantages which we will again separately inform integrated US cities / regions and Unterstützerung of our initiative.