First video integrated into the welcome app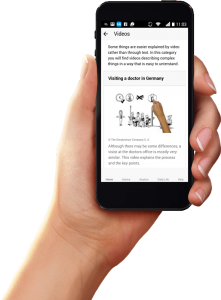 Currently for Android and coming soon for Windows and iOS is a first video in the welcome app since the 08.02.2016. Organization the Lions called a beautiful initiative called "Manual Germany" in life. This everyday situation that refugees and asylum-seekers in Germany are confronted, are explained in short, succinct and multilingual videos. The first video of this hopefully growing number describes the visit to the doctor.
We keep videos for a super addition to the app and type as simpleshow that although drawn and sketchy maps content, but very informative and credible, we also class find. We are planning to extend the scope of the videos regularly and hope for high acceptance by the user of our app.
Link to the original video "Operating instructions Germany part 1" in German
Link to the original video "Manual Germany part 1"
Link to the original video "Operating instructions Germany part 1" in Arabic
More information about the project 'Operating instructions Germany' the Lions organization
Videos produced by simpleshow – experts the explanation